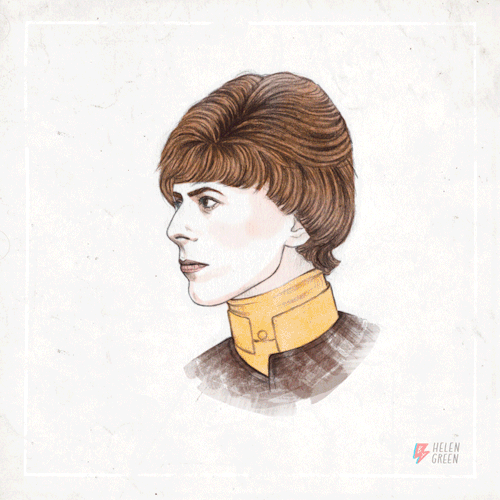 One month ago, David Bowie turned 69. At the same time, he released a great album, arguably to be compared to his best ever works.
But, two days later, he died.
I am not over it. Maybe the Internet has moved on. But, I haven't.
David Bowie helped to shape the world I grew up in. So many musical movements I enjoyed were touched by him. Every weird haircut that I admired was indirectly inspired by him. The very definition of what a man was supposed to be was redefined for me by him. For our generation, manhood (and womanhood too!) became a spectrum of identity along which we became free to move. With that in place, we could decide on the details of what our identities meant for ourselves dynamically instead of holding to some spurious one size fits all ideal. Turn and face the strange, he said! These days, these dynamics are just a given, of course. But, I believe that we have Bowie to thank for a lot of that just because of the impact he had on popular culture with the various masks and personas he wore.
That's just the thing. David Bowie was as much about redefining how we perceive identity as he was about musically inspiring his peers and followers. In fact, Bowie's innovation with identity and artifice is entwined with his musical output in such a way that makes either one a facet of the other. What's come out of that dichotomy between persona and sound simply makes him immortal.
Here are 16 personas that Bowie projected through out his career either by his design or made manifest through our perception as his audience. Which one do you identify with the most? I imagine the answer to that is as varied as there are the number of personas Bowie took on. But, take a look, and tell me what you think.
***
1. Mod Bowie
Sparked by Little Richard, soul music, and by the fashions of the "modernist" European continent in the early to mid-sixties, young David Jones, aka Davy Jones, aka (for a few weeks) Tom Jones, and eventually David Bowie, would embrace the style of his times on the London R&B scene, and later in pursuit of his love of the music and aesthetics of the theatre, the worlds of which he would eventually marry together by the next decade. Important to note: it was through London mod culture that Bowie discovered the idea of men wearing make-up. This is not to mention the innovations which that scene represented with R&B as it was contrasted and even melded with British music hall traditions. These took Bowie down some fairly unexplored creative alleyways, for a time at least.
Further listening: "I Dig Everything"
2. Space Hippy Bowie
By 1969, technology, science, and what humanity thought previously to be only within the realm of science fiction was moving into a new era of space exploration. Sympatico with that was a cosmically-attuned David Bowie, mixing hippy locks and folk-strumming with spacey mellotron, and with a new forward-looking aesthetic. At this point, his approach to music was on an appropriately grander scale, with Stanley Kubrick's 2001: A Space Oddysey being a major influence, not to mention the Apollo space missions. By this point, Bowie still felt very much an outsider culturally speaking, putting a lot of those feelings into his songs even this early on. His connection with the figure of Major Tom as found in "Space Oddity" seemed subtle by this point, perhaps. But, the idea of being alone in a void as an artist, and attached only by a thread to his art, would inform his work for the rest of his life.
Further listening: "Wide Eyed Boy From Freecloud"
3. Mona Lisa Bowie
There is a theory that when Leonardo DaVinci painted the Mona Lisa, he was creating a female image of himself. By 1970, David Bowie was also experimenting with facets of his feminine side, ignoring social conventions when it came to hairstyles and wardrobe while he was at it. The cover of 1970's The Man Who Sold The World was provocative, in all kinds of ways, finding Bowie in a dress and reclining like a Restoration-era aristocrat. Later, we found Bowie as a shimmering feminine figure on the cover of 1971's Hunky Dory, too. The music made during that time of course was provocative in its own way, reaching past the twee-ness of his sixties persona, and reaching forward into something truly revelatory.
Further listening: "The Width Of A Circle"
4. Ziggy Stardust Bowie
Bowie appeared on British chart show Top Of The Pops in the summer of 1972 singing "Starman", a song about being shaken up by a new, seemingly alien rock star while watching TV, no less (how meta was that?). He came in the guise of a Kabuki theatre-inspired glam-rock androgyne, and just in time for the color TV era in Britain. The appearance galvanized a nation. Who was this creature before them? And why did so many feel instantly repelled or liberated with very little middle ground? It was the exact line between one era and another for everyone watching, and for Bowie himself. It would last until a performance at London's Hammersmith Odeon at the end of a long tour to promote both The Rise And Fall Of Ziggy Stardust and it's thematic and more Americanized sequel Aladdin Sane in the summer of 1973, when he retired Ziggy for good. But, then he changed again.
Further listening: "Starman"
5. Halloween Jack Bowie
Putting Ziggy to rest was no easy thing. In some ways, Halloween Jack ("a real cool cat who lives in Hunger City") was a comedown persona from that Ziggy era, appearing on the cover of 1974's Diamond Dogs (also a transition record away from his earlier glam output) as a half-man, half-dog entity that once again shook up the censors. Jack wears a piratey eye-patch, while still sporting Ziggy's crimson pomp, a denizen of a post-apocalyptic glam-Orwellian world. Yet, somewhere on the road during the tour supporting Diamond Dogs, a transformation occurred yet again, seeing Bowie pursuing the funk-soul threads found on that record, to leave its more glam elements behind.
Further listening: "1984"
6. Plastic Soul Bowie
Mid-tour in 1974, Bowie took a break to write and record a new album along the lines of the kind of contemporary R&B he'd always admired, later resulting in 1975's Young Americans. Featured on that record were some emerging instrumentalists and vocalists who would later go on to make names of their own. But, in the meantime, Bowie dropped his post-apocalyptic pirate act for the rest of the Diamond Dogs tour, and took on the lines of a slick-suited and booted soul singer instead, as pasty, eyebrowless, and flame-headed as he may have been. Because of his meta approach to presentation, this new identity enhanced a sound that was soul music through an art rock filter, self-aware in its artifice. This fascinated some, and repelled others. Do you see a pattern forming yet when it comes to Bowie's explorations of identity, performance, and audience expectation? At this point, maybe that was unclear even to him, and the pressure began to mount in his personal life as a result.
Further listening: "Sweet Thing"
7. Thin White Duke Bowie
Entrenched in an insular life in drug-addled Los Angeles, Bowie embraced the excesses of the times, ostensibly to see if that kind of conflict could feed his art and to provide a release valve for the pressures placed upon him, no doubt. This environment certainly produced his next incarnation, which was a vampiric, elegantly wasted, Machiavellian pre-World War II European aristocrat known as the Thin White Duke. During this period, Bowie would see his first major film role as Thomas Jerome Newton in The Man Who Fell To Earth, a character who provided something of a persona within a persona. It would also be the era ofthe creation of his celebrated 1976 record, Station To Station (celebrating it's 40th year this year!), bringing in the influences of European electronic music matched with American R&B. This was an album he purportedly didn't remember recording, so decadent was the times in which he was living. Cocaine is a helluva drug. But, it wouldn't stop Bowie from switching gears, and shedding his Thin White Duke identity to pursue new musical roads in a new town in a successful effort to reinvent (not to mention save) himself.
Further Listening: "Station To Station"
8. Berliner Bowie
Needing an escape hatch both creatively and personally away from snowblind Los Angeles, Bowie repaired to Berlin (taking Iggy Pop with him), a city with something of an identity issue of its own. By 1977, Berlin remained cut in two by the wall which became one of the city's identifying features, and a symbol of cold war tensions all over the world. It was a conflicted place. In this regard, Bowie no longer had to put himself into the centre of personal conflict to spark his art. The conflict would be external, not internal, even if he was down on his luck financially and recovering from his prodigious drug use. As such, his new persona was the everyman, with the lurid hair cuts, costuming, and affectations of the past set aside. This era yielded a trio of albums known as "The Berlin Trilogy" that would span the years until the end of the seventies, looked upon today by many as being his most musically innovative and influential. Who says you need to be in a constant drug haze in order to be creative?
Further listening: "Heroes"
9. Pierrot Bowie
By 1980, the musical and subcultural seeds that Bowie had planted were in full bloom, with traces of his influence being found in punk, post-punk, and (particularly) in the New Romantic movements in Britain when it came to wardrobe, hair, and make-up. But, what many did not realize was that Bowie himself had borrowed heavily from the theatrical movements of the past to feed his own look and approach to performance. One was an established persona in the world of mime, which Bowie had studied under Lindsay Kemp before he became a rock star; Pierrot, who was a male mime stock character that dated back to the seventeeth century. By the Scary Monsters album and the iconic video for  its single "Ashes To Ashes", it was this character that Bowie took on and presented for a new generation, showing the New Ro's how it was done, while revisiting and coming to terms with his past at the same time.
Further listening: "Ashes To Ashes"
10. Serious Moonlight Bowie
Bowie took a break in recording a new album for an unprecented two year span. But, by 1983, he and producer Nile Rodgers brought out a record that would contrast the dark existential tones of Scary Monsters with bright radio-friendly post-disco dance music. The record was even called Let's Dance, a clear statement of purpose if there ever was one. Of course, this meant a new look for Bowie, too; a peroxide blonde, pompadoured Elvis-style entertainer. For some, this was kind of a crass move for Bowie, who had been a champion of the outsider for so long. But, this was Bowie's entrance into a new world of MTV, and something of a career resurgance on both sides of the Atlantic at the time. He'd sell a record number of albums and fill out seats for the "Serious Moonlight" tour during a decade that many would otherwise cite as being, well, artistically problematic for him later on.
Further listening:  "Let's Dance"
11. Goblin King Bowie
It must be remembered that David Bowie was a Rennaisance man, including his status as an accomplished actor. He's capacities for acting clearly played into all of his personas whether in a film role, on a record cover, or on stage. One of his most iconic movie roles was his turn in the Jim Henson-directed, George Lucas-produced, Terry Jones-written Labyrinth, starring Bowie in the role of the mysterious baby-stealing Goblin King Jareth. A whole generation who had missed Ziggy Stardust on Top Of The Pops were introduced to this version of Bowie in a bona fide family classic that endures for children (and their parents!) today. That's the thing about children's movies that really work; they tend to work for all time. Bowie was a big part of that, with his expertise in putting across characters in his music easily translated in the film, too.
Further listening: "Magic Dance"
12. Tin Machine Bowie
After a stint at trying to please an audience, and having his art suffer, Bowie decided to reset things for himself by stripping his sound back. So, gone was the hairspray and gated drums, and in their place was a sharp suit and noisy guitars, with Bowie fronting a rock band with the trappings of democracy; Tin Machine. This too didn't quite do the business for Bowie critically speaking, with lukewarm reviews of two records under that moniker from the late eighties and into the nineties. But, it showed that Bowie was back to following his muse, and being unafraid to change it up when he felt he needed to.
Further listening: "Under The God"
13. Nathan Adler Bowie
After a marriage to Iman in 1992 and a few more albums to get him back on the recording good foot at the beginning of the decade, it was time to dive into his musical meta-narrative approach again. Bowie had played around with concepts in albums in the past, of course. By 1995's Outside, that approach was back, after (at the time) "retiring" his old hits on the Sound + Vision tour, and establishing a new working relationship with Brian Eno who had helped him create his Berlin trilogy. And also in place for this new record was a new persona; Nathan Adler, a shady art crime detective in a dystopic version of the year 1999. Adler was a way for Bowie to talk about the waning twentieth century, and the concerns of what was to come in the twenty-first. He was still the outsider looking in, or even the insider looking, well, outside.
Further listening:  "The Heart's Filthy Lesson"
14. Drum 'n' Bass/Industrial Bowie
By the nineties, it seemed like Bowie experienced a turnaround, with the children who grew up listening to him and being musically (and otherwise) influenced by him becoming sources of inspiration for him in return. Of course, in reality, Bowie had always been a music fan, inspired as much by his contemporaries in the sixties (the Velvet Underground), seventies (Neu!, Philly soul) and eighties (The Pixies) as much as he was in the nineties. But, in the nineties he seemed especially enthusiastic about what was happening, like a kid in a candy store. As such, his new persona that made music which reflected trip-hop, drum 'n' bass, and industrial rock seemed to fit right into the decade's milleu, working with contemporaries like Goldie, and with Trent Reznor from Nine Inch Nails, among others. Outwardly, Bowie's appearance took on the look of the wide-eyed rave kid, all spiky-orange haired and union-jacked. Turning fifty in 1997 didn't seem to faze him one bit.
Further listening: "I'm Afraid Of Americans"
15. Cyber Bowie
By the end of the century and into our current one, Bowie's interest in technology and human progress which ignited his earliest work seemed to move to the forefront of his thinking. This played into his music, of course. But, it also sparked his curiosity in the Internet and its potential to change the course of culture (he sure was right about that). So, in addition to being an active recording artist at the time, he also branched out into forming his own Internet company; BowieNet, an Internet provider. He pioneered music downloads. He lent his voice to interactive video games. By 1999, Bowie became a twenty-first century man before any of us. His whole persona at the time seemed to reflect this man of the future vibe. In that, it also seemed to spill over into  our own hopes for the new century. It wouldn't be so bad if Bowie was optimistic about it, right? By the early 2000s, he looked as trim and dapper as a Nietzschean superman, still putting out good records and touring. That was until 2006, at which point he disappeared off of our radar for a while.
Further listening: "Everyone Says Hi"
16. Blackstar Bowie
The twenty-first century turned out to be pretty rough on Bowie. Due to health problems, he had to go on hiatus for a while after 2003's Reality and its 112 date accompanying tour. It would be ten years before he emerged with a new album. Twenty-thirteen saw him return with The Next Day, which was something of a revisit to his sonic past. Yet, Bowie remained out of sight. Still, we were glad to have him return with such a great record. Then in 2015, there was the promise of yet another record, ★ (Blackstar), with an accompanying video for the title track. In it, Bowie embodies a new persona that resembles an ancient and blind Tiresias figure, a holy prophet of a new religion, maybe. And that's what it felt like to hear this new music; a religious experience. The record, to be released on his 69th birthday, turned out to be better than it had any right to be for a man with a body of work like his heading into his seventies. He was still experimenting with texture and form to challenge listeners. How would he top this one? A tour? More records? Never mind. He was back!
Further listening: "Blackstar"
***
I woke up one morning, and he was gone. It was impossible. But, true. As I said, I'm still not quite over it.
Yet even though he's no longer on this planet, he remains to be David Bowie. The name itself conjures so many images, so many figures so varied from each other, yet all unmistakably Bowie forever ingrained in the imaginations of generations of people. He cut such an important cultural swath for musicians and fans alike, freeing up musical genres of course, but also for our ideas of identity and persona. Throughout his career, he played roles of his own devising to help him get where he wanted to go. And in the end, he beat death by making it a part of his art, just as he had done with his life.
He showed us how to change things up, to adapt, and he made it look easy. He also showed us how to take control over our identities, define them for ourselves, be playful with them, and to help us recognize how complex and multifaceted they are. He symbolized a certain freedom that had never been framed in quite the same way before. As a result, we became freer because of his work, and his example. His influence, in any of his many incarnations, is enduring.
Maybe this is why the grief is so enduring, too.
Enjoy!
For more on David Bowie, check out this BBC audio program in which Bowie himself talks about his own musical journey in his own words.
***
Which Bowie persona and/or era resonates the most with you?
What was your "wake-up" Bowie moment? Mine was seeing footage of him and the Spiders doing a ragged and ferocious version of  The Velvet Underground's "White Light, White Heat". 
How did Bowie help you to understand your own identity? For me, it was that you could be both cool and weird at the same time, and also that the feminine in a male identity was to be welcomed, not shunned.
Let's talk about Bowie in the comments section, good people.